The International Federation of Gynecology and Obstetrics (FIGO) and the International Confederation of Midwives (ICM) are pleased to announce the publication of two joint statements of recommendation for the prevention and treatment of postpartum haemorrhage (PPH).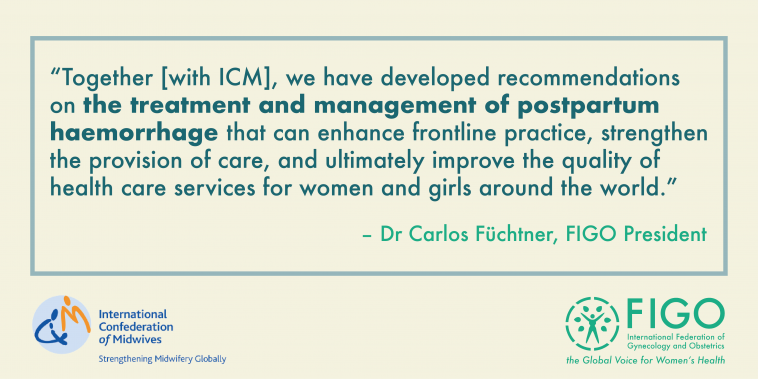 The Joint statement of recommendation for the use of uterotonics for the prevention of postpartum haemorrhage and the Joint statement of recommendation for the use of tranexamic acid for the treatment of postpartum haemorrhage are the culmination of strong and effective collaboration between FIGO and ICM – two of the world's leading organisations representing specialists in midwifery, obstetrics and gynaecology.
PPH remains the leading cause of maternal mortality in low-income countries and the primary cause of nearly one quarter of maternal deaths globally. The vast majority of these deaths occur in lower-middle-income countries (LMICs) and are a result of a lack of accessible, skilled medical personnel equipped with appropriate supplies, medications and training.
In publishing these joint statements, FIGO and ICM once again illustrate their commitment to effecting positive change in the health and care of women, girls and their families. FIGO President, Dr Carlos Füchtner, highlighted the importance of the recommendations and of working in collaboration and partnership.
"FIGO is proud to be working with and through our national societies, and in collaboration with ICM and national midwife associations. Together, we have developed recommendations on the treatment and management of PPH that can enhance frontline practice, strengthen the provision of care, and ultimately improve the quality of health care services for women and girls around the world – in particular in LMICs".
ICM President, Franka Cadée, echoed Dr Füchtner's words, drawing attention to the importance of evidence and putting women, girls and newborns at the centre of their care.
"Respectful collaboration between FIGO and ICM will contribute to a better understanding and appreciation of the complementary and equally significant roles of midwives and obstetricians within the context of preventing and managing PPH.

Operating from an evidence-based standpoint, we encourage members of both professions to leverage these guidelines in an effort to ensure medical interventions during childbirth are appropriately responsive to the context. Underpinning this collaboration and resulting recommendations is the importance of ensuring every woman has the information she needs to make informed decisions about her care, and the care of her newborn".
For these recommendations to have maximum impact on the prevention and treatment of PPH, policy makers, practitioners and supply chain experts need to be updated on the new recommendations and have access to quality uterotonics and tranexamic acid. Speaking about the implementation of the guidelines, Dr Alison Wright, member of FIGO's Safe Motherhood and Newborn Health Committee and PPH Working Group, said,
"I am delighted that FIGO and ICM have come together with one voice, to give clear recommendations for the prevention and treatment of PPH. As obstetricians, we look forward to working together with our midwifery colleagues to support implementation of these recommendations at a local level.

Ensuring frontline obstetricians and midwives are appropriately trained and have direct and timely access to effective uterotonics and tranexamic acid will save hundreds of thousands of lives and significantly improve the provision of safe, personalised care for all women, girls and their families worldwide".
FIGO is proud to be heading up a project to continue the effort for the next phase – to close the gap between global evidence-based recommendations on, and the implementation of, lifesaving medicines.
With our partners ICM, Concept Foundation and MSD for Mothers through the Improving access to essential medicines to reduce postpartum haemorrhage (PPH) morbidity and mortality (IAP) project, FIGO is working to improve the adoption of these recommendations to ensure health care providers are empowered in implementing these interventions at the frontline of the health care system.
Read and download the statements, and find out more about FIGO's IAP project, using the links above. The statements can also be found in the resource section of this website.